"This Christmas consider Christ." Those are lyrics to a song that has stuck with me this Christmas season. They stood out to me because I realized how easy it is for me to consider many things other than Christ. I consider what gift to get for a family member, what cookies I show make, how to decorate, how to get everything on my list done. There are many things to consider at this busy time of year, but we must also consider Christ.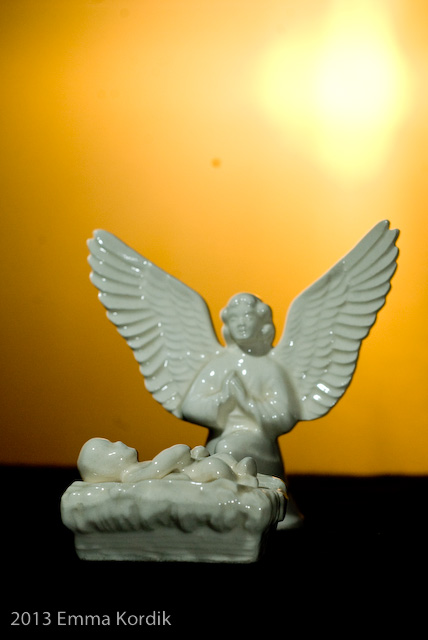 Tonight, many will go to church and hear about the birth of God's son. But will they actually consider what they are hearing or will it simply pass over there head? Tomorrow we will have a day of remembering that birth but sadly, I fear too many of us will simply consider our gifts and food and not consider Christ. So let's take a moment and really consider Christ.
Christ. The son of God. The perfect lamb. Wonderful. Counselor. Mighty God. Everlasting Father. Prince of Peace. Savior. Lord. King. High Priest. Exalted. The source of peace, love, hope, joy.
Christ is fully God. He is the creator of the universe. He has unlimited power. The word of his mouth silenced a storm so terrifying that veteran fisherman feared for their life. He caused people to come back to life. He healed people of every type of disease. He has authority even over the forces of darkness. As God, Jesus can do anything and everything, knows everything, is over everything.
Yet, Jesus gave all of that up when He became a baby. Think of it. Jesus went from being the all powerful force to being almost powerless. A baby cannot do much, it cannot talk, it cannot walk, it cannot even roll over. That is what Jesus became. He went through all the stages of growing up, before dying a painful death. Why? Because He loved you.
When I consider Christ, I am blown away by how much He gave for me. He set an example, that I need to follow. I need to follow it out of love and gratitude and because to me it seems the only way to show that I appreciate what Christ gave. The example Christ set is summed up nicely in Philippians 2:5-8. "Let this mind be in you, which was also in Christ Jesus: who, being in the form of God, thought it not robbery to be equal with God: but made Himself of no reputation, and took on the form of a servant and was made in likeness of men: and being found in fashion as a man, he humbled himself, and became obedient unto death, even the death of the cross."
That is the mindset I must have, which translates into living as this, "For the love of Christ controls us, because we have concluded this: that one has died for all, therefore all have died; and he died for all, that those who live might no longer live for themselves but for him who for their sake died and was raised." 2 Cor 5:14-15
I have considered Christ and I have concluded that the only response to all He did for me is to give all to Him. To have the mindset of a servant that Christ demonstrated, die to self, and seek to please Jesus in all that I do. He deserves it. He gave up everything. Should I expect to do less?
Have a merry Christmas and consider Christ.